Chicken Cages – Sturdy and Predator Proof
It's always a pleasure to have a few chickens clucking around the back yard. Not to mention the benefit of free eggs!
To keep your chooks safe from foxes and other predators, it's best to have a sturdy, fully enclosed chicken cage for them to return to at night.
For new chook owners, keep your chooks in the cage for a few days. After that you'll find they can be let out during the day and will return to their cage at dusk. Just make sure the door is securely fastened when they're back inside.
Our chicken coops are designed for easy access and a convenient opening for collecting eggs. We can include nest boxes too.
The following photos feature a large chook cage, taken from different angles.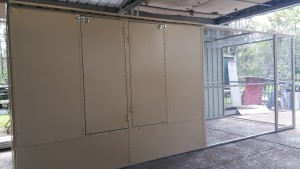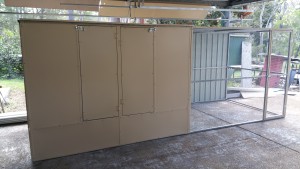 This cage is also suitable for cats. Measurements are 1,600 wide, 1,800 high and 4 meters in length. It can be in two parts if required. there is easy access for nest boxes or shelves if using as a cat cage.
We also have chicken tractors. These are for a small number of chooks and can be easily moved from place to place, giving the chicken fresh grass every time.
Cages can be built in different sizes and designs. Simply call us to order your new cage. They are suitable for just a couple of chickens or for however many you have.