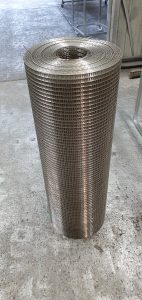 Stainless steel is actually a combination of various metals which include iron, nickel, chromium, and other trace elements. Stainless steel wire is particularly resistant to corrosion and is ideal for outdoor enclosures such as aviaries or other types of cages. It has fewer 'dags' which can cause heavy metal poisoning in birds.
Stainless steel wire is stronger than galvanised (zinc coated) wire and has a shiny bright appearance.
We have just imported several rolls of stainless-steel mesh in 30 meter rolls. The measurements are 915 x 12.7.x 12.7.
Cost is $450 per roll
Colourbond sheets 1200 x 1800 – Paperbark colour
Galvanised steel tubing – 25 x 25
Heavy duty door fronts
Spring clips
Screws
Aluminium composite sheeting – 2440 x 1220 (3 ml thick)
Cutting available. Please contact Clive at clivescages52@gmail.com