We receive a lot of repeat business so we have never needed to advertise. Here's what some of our happy customers have to say…
"We sent Clive a photo of the aviary we wanted. It was only available from Melbourne and the company didn't respond once they knew we lived in Qld. They did quote us a price minus delivery charges and then never returned our calls. Clive built us exactly what we wanted at a price that beat the other company by over $400 and that included delivery. It arrived today and it is magnificent. He included a feeding station, shelves for nesting boxes and perch holders. Clive kept in touch to let us know how it was going and for a custom built aviary measuring 2.7 x 1.5 x 1.8 meters it took 2 weeks from order to delivery. Thank you so much Clive we are over the moon."
Toni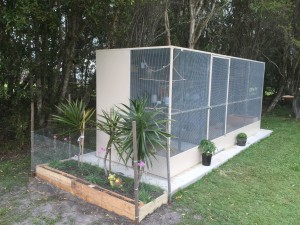 "Dear Clive, we finally have the aviary set up with birds.
We are so pleased by the aviary you built. It's exactly what we asked for, but honestly it surpassed our expectations!! Our friends and family have all commented how well made it is. It's perfect in size and design.
We also really appreciate that you deliver for a very reasonable price – and your set up for getting the aviary off the truck and in place made easy work of the task!!
We'll definitely contact you again if we are ready for a second aviary.
I have attached some pics of the aviary if you want to use on the website – if you want different angles let me know as I am more than happy to take them.
I also included some photos of our birds, just because we wanted to show you who is living in the aviary."
🙂 Manda & Sam"
"
We are extremely happy with the aviaries Clive made for us, and as you can see, our birds are also. All aspects of the design/specifications were clearly explained and the quality exceeded our expectations.
Nothing was too much trouble for Clive. Would highly recommend.
Cheers"
Rod and Mon
BUNYA"
"Thank you so very much Clive for our magnificent Aviary, you made our dream come true.
It all started when we were sitting on our deck watching the birds in the garden flying around, then looking at the two little cages in which our beloved birds lived in, "thinking we need to get an aviary".
A search on google, we came across Clive's Aviary. Best of all you were local.
A phone call later Clive was at our house measuring up, explaining what we need to do to get the base right and then email through a quote.
Once we had the base completed I advised Clive, two days later Clive had built the Aviary and delivered it. Once the Aviary was in place, we stood back in amazement. Could not believe what an awesome job Clive had done, even returning the next day to help put up nesting boxes.
It is such a joy to now sit on the deck, watching our birds flying around, sing and chatting.
We highly recommend Clive if you're looking for that WOW factor in your Aviary."
Paul & Maria, Greenbank."
"Hi Clive,
Thank you so much for the beautiful aviary you made for me. I think the cockatiels really love their new home! They get plenty of exercise and now that the weather is nice and sunny, they actually spend most of their time in the meshed area, even sleeping there at night, judging by the pattern of droppings. I have a small bird bath in there and that has become their morning ritual. Every mornings I give them fresh water in the bath, and straightaway they dive in and start their ablutions.
My children and I like to spend the evenings sitting next to it and admiring the birds. I also like to go in there and play with the birds a lot, now that I don't have to fear them getting into trouble. They certainly seem more comfortable and are a lot more affectionate.
And thank you for the advice about positioning. It gets a nice cross breeze and is well ventilated, so this summer heat will not be cooking my birds.
Now I only wish I had made it bigger!
I cannot thank you enough."
Sincerely, Leslie"
"Hi Clive.
Hope business is well. As promised a few months back, I have attached photos of our custom patio cage you built for us for your website.
I have also attached a couple with our new little Blue & Gold, Lucy enjoying her new day cage.
Also wanted to write to say a big thank you for all your help from start to finish. You gave great advice and your professional out look on everything was amazing. Shows you realy care about your customers.
I will be returning in the future for all of my cage needs and will be passing your details to anyone I know who is in the market for a cage.
Thanks again.
Regards, ALAN"
"Thank you so much for our new aviaries. As always they are fantastic just like you. Hope you had a good trip home and we will definitely be in touch for more."
Tracie"
"Hi Clive
I have been meaning to email you for a while to let you know how happy am am with my cat enclosures.
They are wonderful and the cats love being in them. They are very well made and just right for my cats. When ever people come over to our place they comment on how nice they look and how well made they are, so thank you so much for all the time you spent with me and showing us what would be best for my cats."
Kind Regards, Jane
"Good morning Clive,
Well, the birds are in, plants and nest boxes too. Everything looks great.
Finished yesterday due to that terrible stormy weather. Peter thinks the aviary is great, perfect in fact.
Thanks once again,"
Regards – Rebecca"
"I just wanted to drop you a note to say thank you so much for the cat enclosure you made for us. We've found that the quality of the enclosure is superb, and your attention to detail in making sure all the welded joins etc are just so neat, with no sharp edges anywhere.
The size has proven perfect for our 3 large cats, and they are so happy now being outside in our yard during the day, and then coming into the enclosure to sleep at night-time.
We easily added carpet to the shelves and put in a few blankets, a pet bed, and some snugs – and it's so homey for the cats.
This is not criticism at all, just feedback. The only other thing that would've been helpful is to have a catch/lock on the inside of the gate too, because we sometimes have to go in there to clean up or top up water or food but want the cats to stay in the enclosure while we do that, and we have to hold the gate closed while we are doing it to keep them in. Just thought we'd let you know about that.
Anyway, thank you again. Your product is of the highest quality, and your service was amazing.
All the best – From Cathy & David (and our 3 very happy and contented furry ones…"
Bonnie, Clyde & Oscar.
"Hi, I would like to confirm that Clive made a cat enclosure for us and it was done in a very professional way and long before we expected. We were extremely happy with the service, we would recommend Clive for any enclosure."
Buffy ,Qld"
"Just writing to thank you for the great job you have done on our triple suspended aviary. Thanks also for your endless patience when I couldn't make up my mind about the size, doors etc.
I would recommend you to anyone looking for a bird aviary as your attention to detail and quality of work is second to none.
Take care."
Eileen (Greenslopes)
"Hi Clive,
My name is Rachel and we recently got an aviary from you for our cats (in Tingalpa). I just wanted to say Thank you for the aviary, you have done such a great job and it is perfect. Thank you it has been very handy."
Regards, Rachel
"Clive did a great job building suspended aviaries to my exact requirements. the cages are of such high quality and i know my birds are safe and very happy.
The aviary is great, exactly what i wanted. We put the birds in there yesterday and they seem to be doing really well settling in.
The eclectus parrots are going ok together – they seem to be just getting to know each other but there is definately enough space in there for both of them thanks again."
Amanda.
"Hi Clive,
How are you going? Just letting you know that I now have chickens and they are very happy with the chicken coop. Although the chickens think the nest box is their bed and they all sleep on top of each other in it at night – not sure how to tell them that they are suppose to be sleeping on the perch 🙂
I kept them in the coop for a week when I first got them and they now go home at dark all by themselves – thanks for the tip!
Had to build a fenced run around the coop so the dog will leave them alone, apart from that it's all good. Thanks for all your help."
Regards, Jo.
——————————————————————————–