Conventional Aviaries are Attractive and Suit Most Bird Species
Here are some  photos of conventional aviaries (ground aviaries) ..
Double 6×4 Aviary
This double 6×4 with kick plate ground aviary is ideal for small grass parrots, conures, rosellas or lorrikeets. Divided in the middle for separating different species. A double layer of wire between the sections will discourage neighborhood brawls 🙂
All our aviaries are made from colorbond & galvanised 25 ml steel tubing. (Waratah wire – yes we still have some supply – is available on request)
These are quality materials which are strong, attractive and weatherproof. The wire used is either 12.5 x 12.5, or 25 x 12.5. Heavy duty wire is also available for larger birds (with strong beaks!)
6×4 Alternate Design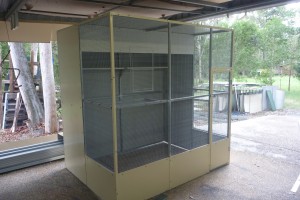 Another type of 6×4 with kick plate which has an internal shelf for food and water trays and feed door.
This would be ideal for finches and small grass parrots.
4 Single Aviaries
Four single aviaries joined together seen here in a garden setting. Dimensions – 1 meter wide, 1.8 high x 1.8 long.
Certain colours are available, certain shades of green, beige, cream, wheat and red. Some other colours are subject to availability.
UPDATE 2020 – We are having difficulty obtaining several colours at the moment. The lighter cream colours and white are still available. We can sometimes obtain 'Monument' (dark grey) but the cost is higher for this colour.
Custom Built Aviary
All types of aviaries are available. This is a custom built aviary sitting on a cement block. Because of the large size, this aviary is suitable for all types of birds. It would look wonderful as a planted aviary too, full of different coloured finches.
If planting an aviary, omit the concrete floor of course!
NB. For larger birds such as Sulphur Crests, heavy duty wire can be used instead.
All aviaries can be fitted with feed doors and wire feed trays at no extra cost.
Pallet Aviary
The compact "pallet aviary" measures 110 x 110 cm (1800 high) and is popular for small patios or back gardens.
Called the pallet aviary because it fits comfortably on a wooden pallet, this cage is suitable for budgies, cockatiels, peach faces. galahs and other small to medium hand raised birds. Also available in heavy duty mesh.
This aviary has been made out of Paperbark colorbond. Of course other colours are available.
Two 6×4 Aviaries
Twin 6×4 aviaries standing side by side, suitable for cockatiels, budgies and most medium sized birds. Because they are actually separate cages, there is a double layer of wire in between them which discourages fighting between neighbours 🙂

We also build chicken runs, cat runs (keep out of trouble with the local council!) Guinea Pig cages, puppy play pens and others.
Most of these aviaries can be customized to the bird owner's specifications.
Clive is one of the most experienced aviary makers in Qld. He can offer advice on the best aviary to suit your particular bird and your specific situation.